Dogs have been the best friends of humans for a long time. Dog beds are a comfort to the doga in winters. It is considered to be the most loyal to its master and rightly so, as we see a number of people who own dogs are very fond of them and even consider them a part of their household.
The dog owners try and give each and every comfort to their dogs as they would to any other member of their family. It is the love of them for the dogs, which makes them do it. We see a lot of dog accessories that are available in the market, starting from dog food, dog clothes, shoes, and even their beds.
You get a variety of things for your loving pet in the market. Also, all these things are available in all price segments. Dog beds are also very much in demand, as the owners want their pets to have a proper bed then sleeping on the floor.
Winters are a problem for the animals; also, they too feel cold, and so there are specially designed heated dog beds available in the market. Here are some of the most availed and bought heated dog beds that would keep your pup warm.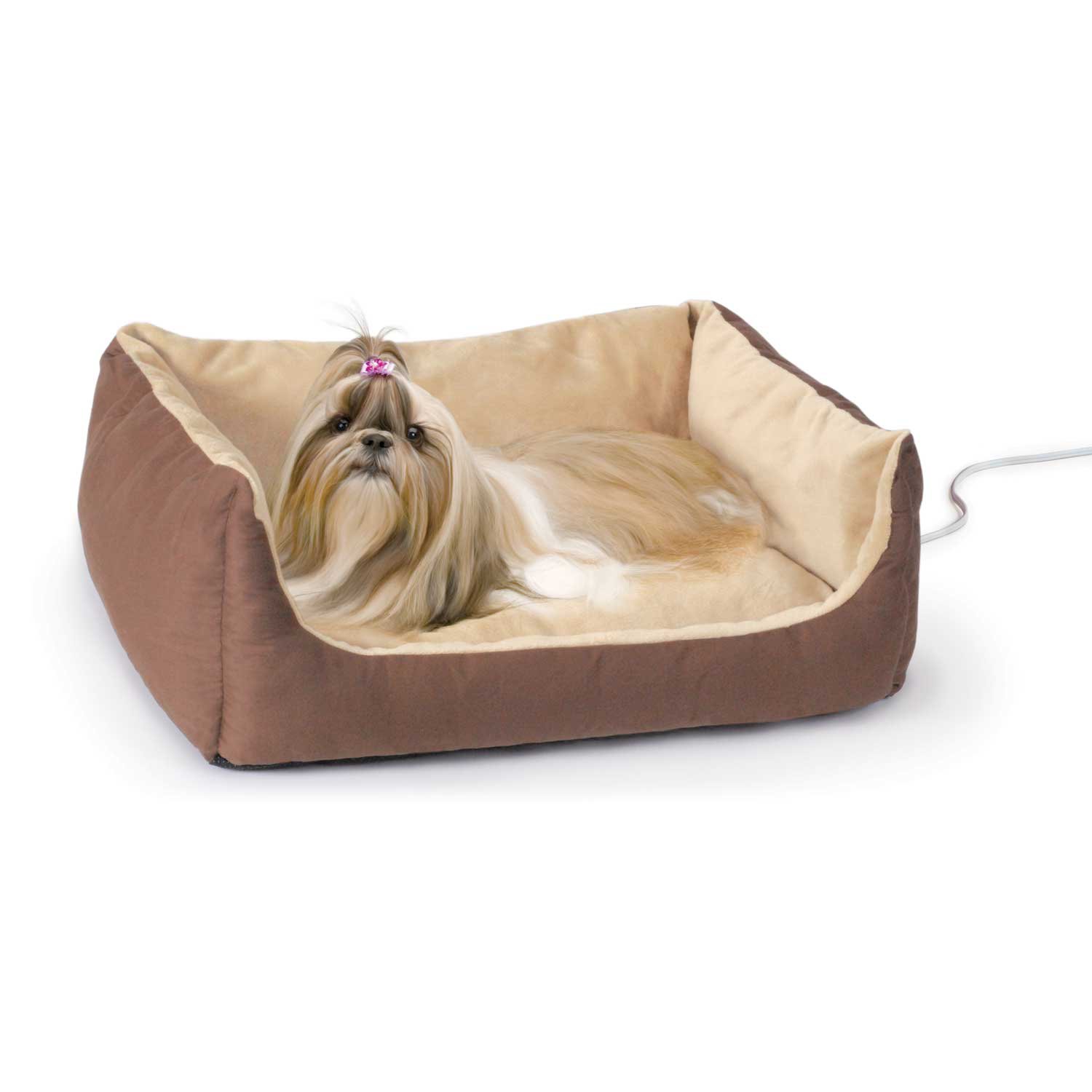 Heated Dog Beds
Thermo-Snuggly Sleeper Heated Pet Bed
Firstly, at the number one position on our list is the thermo-snuggly sleeper heated bed. It is a bed that heats up to the same temperature that your dog needs to remain cozy. Also, it is one of the most availed heated dog beds.
Electric Heating Pad For Dogs And Cats
Secondly, the electric heating pad for dogs and cats. It is for newborn pets. This is a heated mat that will provide the warmth which will help your pet in case if they are not well. Also, it is an automatic heating pad and comes with an emergency switch to switch off the heating system.
Waterproof Pet Heat Pad- Dog Beds
It is made up of waterproof material and has a heating function too. Also, in case if your pet is wet from rain or even after a bath, it can sit on this heated mat and get all dried up with this amazing waterproof and heated mat.
Heated Dog Beds
Electric Thermo-Pad Heated Pet Bed
This is an amazing heated bed for your pets. It comes with an inbuilt thermostat, which automatically measures the required temperature for your pet and is auto-adjusted with the help of it.
Self-Warming Corduroy Pet Bed
It is made up of corduroy and faux and comes with a self-warming technology. Also, this also has a non-skid technology mat at the bottom for the safety of your pets. It is available in different colors and sizes to choose according to the size of your pet.
Self-Warming Crate Pad- Dog Beds
Finally, this product is a heated mat with an automatic temperature control system. This measures the temperature of a pet's body and self-adjusts according to it to keep your pet warm and cozy throughout the cold nights.